Introducing the Thames Path Passport
Those who follow us on social media may have seen that we floated the idea of a Thames Path Passport. Briefly, we offer a pocket-sized book which can be stamped at various "stamping stations" along the way. Once you have a stamp on every page, then we'll send you a completion certificate.
We received very positive feedback on social media and, charged with this mandate, we have been engaging with various facilities along the way. Again, we've had a good response with a number of places signed up including pubs, cafes and museums: the Red Lion at Cricklade, the Rose Revived at Newbridge, the River and Rowing Museum at Henley, the Garden Cafe at Pangbourne, Bel and the Dragon at Cookham, and the Shepperton Ferry being a few. 
We're aiming for about 30 stamping stations so that there will be at least 2 stamps on each of the 12 pages. We hope to have the passports ready by the end of March which will be available for sale in our online shop and free to anyone on our packages. We would welcome any feedback.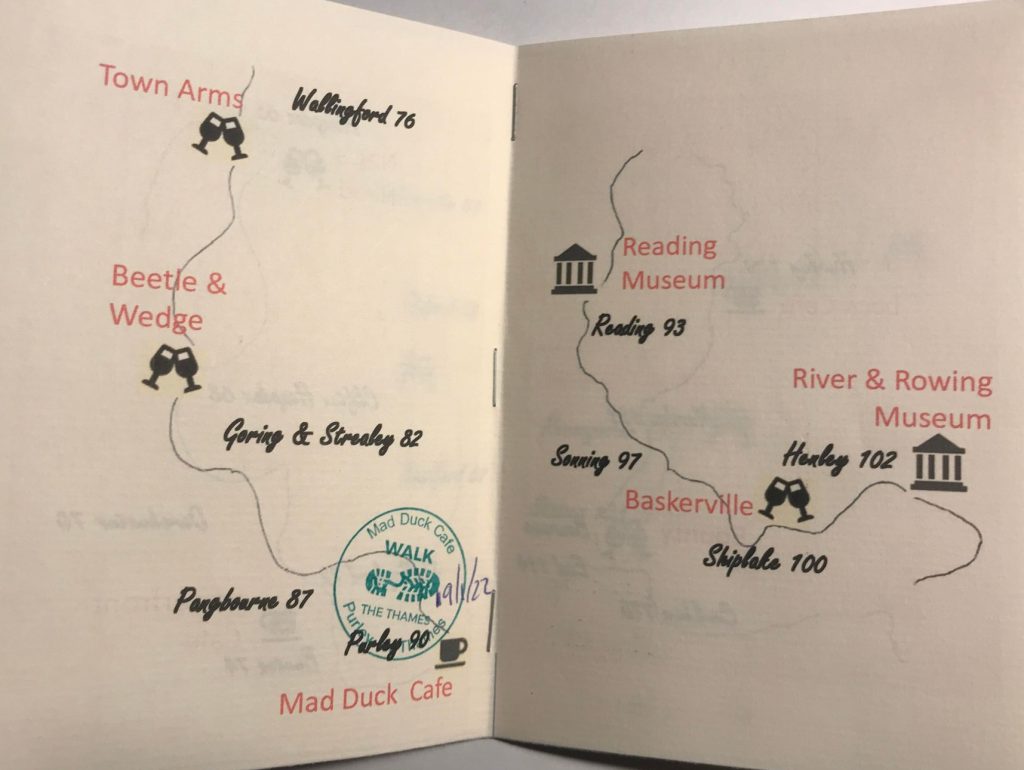 Route News

Although we've had some intermittent showers, there's been no prolonged rain. The paths therefore remain relatively dry for this time of year. There are no flood alerts or warnings on the Thames Path although there were tidal alerts in London this week.

We reported last week on an outbreak of Avian Flu discovered near Iffley Lock, Oxford. Here is a reminder of the advice from Swan Support: "It is safe to continue feeding birds from a distance. But please avoid touching any birds as humans can spread avian influenza. Do not feed birds near a dead animal. If an animal appears ill, you can call Swan Support (07968 868172) for further advice."

Staying with birds, it's heron nesting month. Watch out for them in tall trees. Many nests in one tree is a heronry.

It's disappointing to see that the Path has been fenced in by Mapledurham with an ugly road sign explaining which side of the fence to walk by. The field, some of which was passed over to the Environment Agency for the construction of a fish pass, is owned by the local farmer who has cited potential crop damage as one of the reasons. No crops have been grown in that field for at least ten years. Walkers forced down a narrow channel will inevitably cause heavy erosion of the path.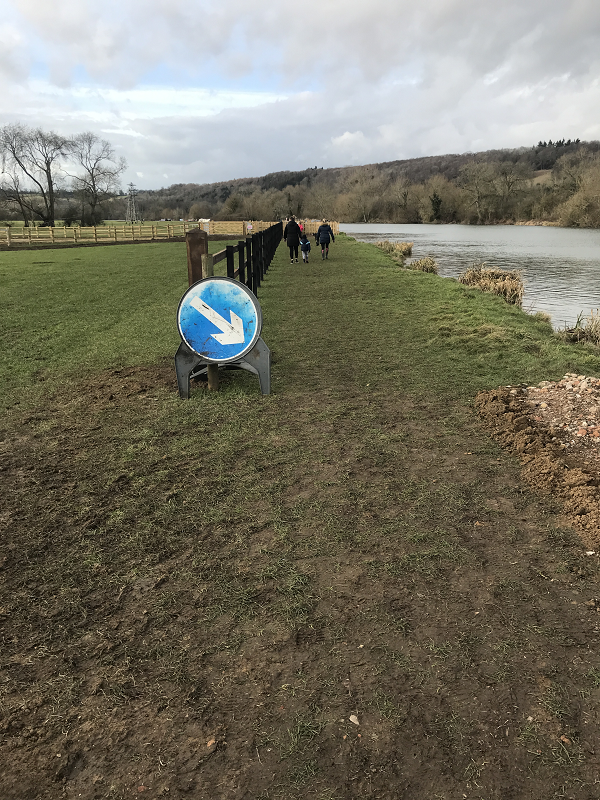 Events
Tuesday's Winter Webinars will feature the Path from Oxford to Reading. Click here to register for these free events.

You may recall that Sandycombe Lodge in Twickenham, also known as Turner's House, had to close unexpectedly over the winter. Well, we're pleased to report that it's reopening on February 9. Opening times are Wednesday to Saturday with self-led tours at 12pm and then guided tours at 1, 2 and 3pm.

Southwark Cathedral is hosting Cathedrals of Steam: How London's great stations were built – and how they transformed the City, a talk by railway journalist Christian Wolmar. Unlike most large cities, London has twelve major railway stations. Wolmar writes regularly for a wide variety of publications  and appears frequently on TV and radio as a commentator. The event takes place on Thursday February 24 at 1830. Tickets may be purchased here.

The Tenebrae Choir will be performing at Dorchester Abbey on February 25. The program is entitled Sounds of the Solstice and includes both old and new classical music. The programme culminates with John Rutter's heartfelt Hymn to the Creator of Light. Tickets may be purchased here.
Reminders:

Abingdon County Hall Museum started a new exhibition this Saturday: "Morland – a family business". Morland are the brewers responsible for the Old Speckled Hen. The name was derived from a paint-speckled MG car that used to run around Abingdon referred to as Old Speckled 'Un. Abingdon was also the home of MG cars.

Battersea Power Station is hosting a Light Festival starting January 13th until February 27th. There are six installations displayed against this fabulous building. Winter is a perfect time to tick off those London miles – especially when you can walk at night!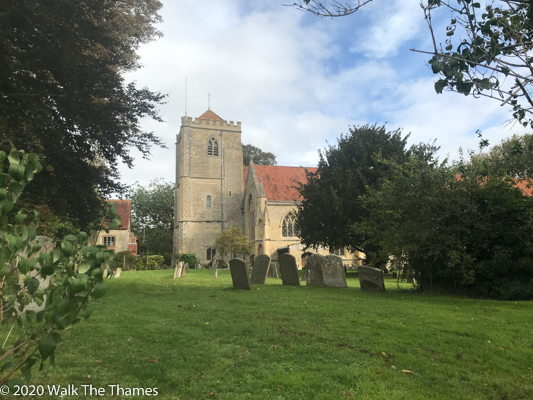 And finally…

We happened to be in Iffley this week and, having received an email from one of our walkers last year recommending a visit to St Mary the Virgin church, we dropped by. The Romanesque church was built around 1160 and is Grade 1 listed. The interior is quite stunning featuring a stained glass window by John Piper. Well worth a visit. The church is open daily and you can cross the river at the lock (not obvious from the OS maps as it is not a right of way!).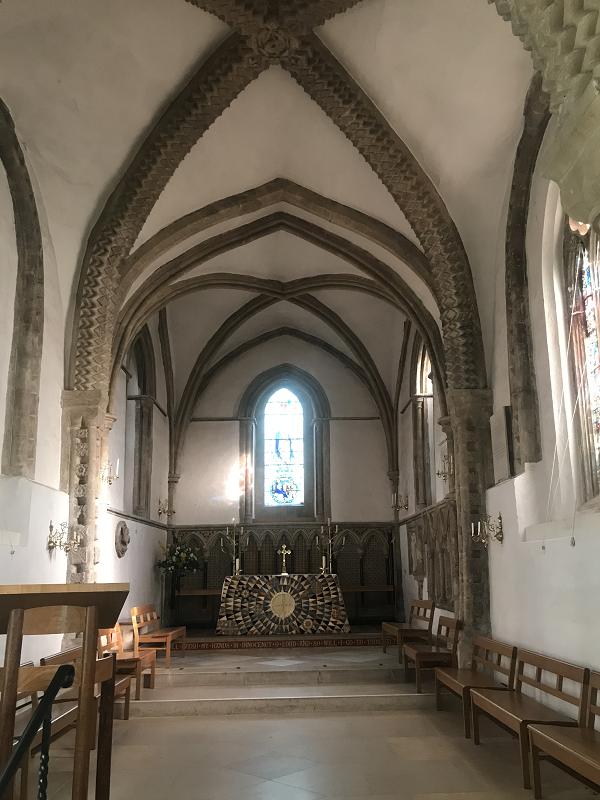 That's all folks. Mind how you go!