Bespoke Thames Path walking holidays. YOU CHOOSE WHERE TO STAY AND HOW FAR TO WALK. AT YOUR OWN PACE. IN YOUR OWN TIME.
Flexibility . Choice . Support
come on an English journey
The Thames Path is a national trail of 180 miles from the source of the Thames to the Thames Barrier, just outside London. There are 15 National Trails in England and Wales. National Trails are funded by the Government, each having a dedicated officer. Other National Trails include the Pennine Way, the first National Trail. As a National Trail, it is fully signposted.
The Thames Path starts in Gloucestershire working its way through countryside and towns such as Oxford, Reading, Henley-on-Thames, Windsor until it approaches the outskirts of London. Through London it passes Hampton Court, Richmond, Chelsea and into the heart of London from Westminster to Tower Bridge. From Tower Bridge the Thames Path snakes its way through the historic and new Docklands of Canary Wharf to Greenwich where it terminates, shortly thereafter, at the Thames Barrier.
we're here to make things easier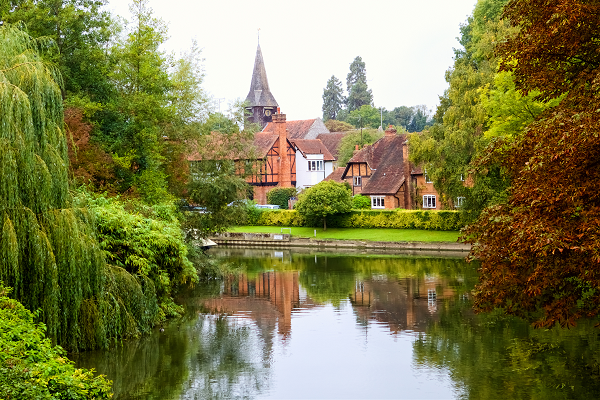 Booking service and luggage transfer
Walk The Thames offers logistical support to anyone journeying down the Thames Path. We can provide accommodation to suit your budget, baggage transfer between accommodation, and bookings to the many sites, events and festivals you will pass. Our innovative route planner allows you to customise your journey to suit your budget, your fitness, and make the most of what's on offer.
Our baggage transfers come with a concierge service, supplying essentials such as a replacement phone charger or a blister pack; or arranging a bouquet of flowers for that special occasion.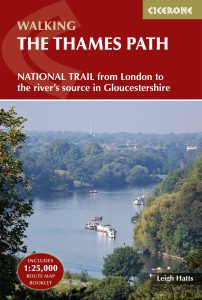 We can provide all the maps and guides you'll need. We supply a free copy of the Thames Path  Guide with our packages. This comes with a 1:25,000 map booklet. We also have an online shop where other Thames Path resources are made available.
A refreshing approach to walking holidays (and we've done a few). The interactive walks planner was very helpful before our trip - I wouldn't have known where to start with the London section! The hotels were good. The luggage transfers worked perfectly - and we appreciated the updates by text. Really like your reg Cumbriaular newsletters too. We have recommended to friends and will be booking again for the next stretch!
Thank you for all of your work to make our recent Thames walk special. Despite wading through the Thames or muddy water, we had a wonderful time.
The best experience imaginable for a pair of first time distance walkers! Richard went above and beyond to accommodate us and, when it turned out that we booked our walk for September on the hottest days on record, he rescued us at the end by getting his neighbour to pick us and our luggage up and take us to a train station so we could continue our holiday. I'm sorry we didn't get to meet in person, Richard, but maybe we can meet if/when we come back to England to walk from Pangbourne to the Thames Flood Barrier.
The boys thoroughly enjoyed the walk and appreciated your excellent organisation and publications. All in all they had a good time, experienced the heatwave while I, at the same time, experienced fires and deadly floods in Greece.
Thank you for the smooth transfer of our cases and for the excellent overnight stay venues. All different but all excellent.
It was so good to meet you at Kelmscott House Hammersmith last Monday. Thank you so much for taking the trouble to come and find me. You and your firm made the trip to Hammersmith so much easier. The organisation was so smooth and all the hotel, pub and restaurant recommendations and bookings were excellent. We will be delighted to recommend your firm and always talk about it when asked about the walk. By the way we raised about £19k with gift aid for the three charities! Once again thank you for all your help and support.
Thank you so much for the certificate. It arrived Saturday. I will give it a good place and I keep on remembering my brilliant walk. Thank you so much again for the very good accompany, service and assistance. I hope you will always have many guests/walkers. I have already recommended your company on quite some occasions.
Thank you so much. We are currently looking at Westminster. We have absolutely loved the changing scenery and had a great time.
What a wonderful walk we had in the beginning of September. We walked from Oxford to Reading in four days. The weather was nice. The acommodations too. The suitcase was at our hotels when we arrived in the afternoon. Thank you so much for the webinar in February that helped us to choose where to stay and also gave us information about the Path itself. We look back to our days along the river Thames and the lovely villages with joy and happiness. THANK YOU!
Richard and everyone at Walk the Thames, I would like to thank you very much for your services over the last few weeks. I completed the walk yesterday reaching the Woolwich foot tunnel. It has been an amazing journey for me - the trip of a lifetime (so far, at least). Your help planning and booking all my accommodations and transporting my bag is what made this possible for me. Particularly as someone doing this walk solo, your help was invaluable. All the accommodations were great with very friendly staff and your bag transfer system was flawless. I feel like I have had such an amazing experience getting to know England and especially the Thames River.
Just wanted to say thank you for organising our walk last week. Everything from the pre information through was excellent. Really liked the accommodation - the Stag & Huntsman was favourite
I wanted to drop you a line at Walk the Thames to say what a great week we had. The accommodation was great and so lovely to be close to the trail! It was such a great way to walk and watch the world go by. We took the diversions, very enjoyable, Bushy Park in the early morning was a gentle start to the day.
Such good organisation from start to finish, especially accommodation near the end of each day's walk. Thanks also to Richard for collecting things we carelessly left behind!
Thank you for a brilliant service throughout. We will also be giving you 5 stars plus on TripAdvisor!
May we take this opportunity to thank you for all the work behind the scenes and on the walk to make our walk along the Thames path so enjoyable, despite the mud, floods and rain - but ending on a gloriously sunny day and taking away some lovely memoires. The texts, diversion e-mail and your personal visit to Cricklade all much appreciated.
Keep doing what you are doing, you have it spot on for me - I will be back for stage 3 in the Spring!
We had a fantastic walking adventure. We have used other companies before on other walking trips. We believe the choice to use your services was the best. Your specific knowledge of and enthusiasm for the Thames sets you apart. We acknowledge the challenges of working in a post-pandemic/BREXIT world, and appreciate your sense of detail and focus on special experiences, whenever possible.
Its a great service. thank you for making it a fantastic holiday. I liked that you came to meet me in person and I felt that you were never far away if I ever needed help. The texts about luggage were very helpful too
Thank you for making my Thames walk so stress free. I have already recommended Walk the Thames to people and will continue to do so. I'll be back in the UK at some point to continue following the river downstream and hope that you'll still be offering this fabulous service.
Thank you for the good organisation of our walking holiday. Everything went well. We enjoyed the Thames Path a lot. The landscape was varied and the people we met were so friendly. Thank you and good luck with Walk the Thames.
I wanted to thank you for everything you did to make our walk such a success. I know the many complications involved must have been extremely frustrating, but one would have never known. You went out of your way to help us so many times; your love for the walk was infectious, and we all enjoyed every minute of it. We hope to finish the walk in the future, so we're not out of your hair just yet! Again, many thanks for making the walk such a wonderful adventure!
Thank you so much for the detailed attention to our recent Walk the Thames itinerary and accommodation you prepared for our walk this September. We recently finished the walk and are very happy customers. The accommodation and instructions were excellent. We've loved the choices of hotel and the clarity around availability of local shops saved us a great deal of energy. We also encountered a completely naked man just after Eynsham: you didn't warn us about HIM! To sum up, a brilliant walk due to your expert attention to detail and great patience with six Aussie women. (who were completely ignorant as to what was needed but managed anyway!)
Thank you very much for the great services. It was much appreciated.
I would like to thank you and your team for all the support. This has been a dream come true for me, which I could not have done without your help
Thank you so much for the excellent service you've provided especially dealing with today's challenge. We plan to do another chunk of the walk next year so we will be in touch again.
Thank you for the efficient and worry free service. It was a pleasure to work with you and your company. We hope to see you again when we do the next segment of the Thames Path soon!
We have really enjoyed the walk and your service has been impeccable. Thank you very much for helping is make it happen.
You're a star! Thank you for all your help this week! We really appreciate you1 Have a good day!
(We) would like to both say a big thank you to you for helping to make our Thames Path walk from Oxford to the source so much more enjoyable. Having a reliable moving of bags really allowed us to focus on the walk and our surroundings rather than on how uncomfortable our heavy rucksacks were. We loved our 4 days along the rural Thames and were a tad disappointed when the end came in sight yesterday afternoon. Thank you once again for your helpful and friendly service.
I would like to thank you and your team for all the support. This has been a dream come true for me, which I could not have done without your help
Thank you very much for the excellent baggage transfer service - it made our walk from Cricklade to Oxford, last week, so much more enjoyable not having to carry extra weight! My daughter and I found the text to advise us of its arrival at destination was very reassuring. Richard was more than helpful after one of our prebooked hotels notified us that it was closed for refurbishment only days before we were due to start walking. We're already planning the next leg - see you next year Richard.
Just a quick email to thank you for your excellent luggage service which you supplied on my recent Thames walk from Kemble to Goring and Streatley. You kept me informed of all pickups and deliveries of luggage for myself and my walking companions. Would definitely recommend your services to other walkers. I would use your services again without reservation.
Really chuffed with the amount of care and service you guys provide. Big thanks from me for all the planning. Rest assured I will be back in touch next Easter for another week.
Just wanted to say thank you so much for the excellent service we received from Walk the Thames. We particularly liked the daily text messages and enjoy reading your interesting newsletter.
Thank you so much for a brilliant service. We made Oxford this afternoon while the sun was still shining. We've had an amazing time and thank you for your help and kindness.
I simply wanted to send a little note carrying inside a few words of good wishes for all of your gratefully received efforts. You most certainly stepped up in my time of need. Thank you so much, you really did provide me with my requirements and excellent service. So a huge thankyou.
Thank you so much for all of your help and choice of accommodation. Everything went to plan and the distances were spot on. I think I mentioned in a previous note our favourite places and one we would suggest you re think. We met many people along the way and I did my usual sales patter of talking you up and recommending your company to all those interested. Anyway all in all a great trip and many thanks
We so enjoyed our walk with you. Although it was a worry (!) (for me), we loved the differences of our 5 nights accommodation. All the hotels were lovely, and the rooms or views were amazing, and apart from the quirky Miller, the rooms were huge. So good that the last one was the Roseate to relax in. We weren't expecting such special accommodation. Hotel selection could not be bettered.
I just wanted to say thank you so much for all your help. It made all the difference not to have to carry all our stuff. I could tell from the first time I contacted you that you would be efficient and so it proved. It was really useful to get a text every time you picked up or delivered the baggage - so reassuring. We particularly appreciated your help and flexibility when one of the hotels changed its rules about storing baggage. I don't suppose we will be in need of your services again but I will certainly recommend you if I hear of anyone else planning to walk the Thames Path.
We had a fantastic holiday and wouldn't hesitate recommending you and your company to anyone!
Thanks for looking after us so well all week
We really loved this section of the Thames Path all along the way. The route took us through many locations new to us and we were absolutely lucky to enjoy such fabulous weather. As before the ease of walking was facilitated by your fantastic transportation. Thank you so much for assisting us along the way and accommodating the extra bag, we really appreciated it. We hope to return to walk from Reading to Staines (or a little way further on) next year.
Thank you again for all the handholding with respect to the pandemic.
Just wanted to say a huge thank you for the excellent service that you have provided over the last 10 days. It has made our holiday much more relaxed and enjoyable. We appreciated the daily texts to update us on luggage collection and delivery - and you never failed to deliver on time. Thanks from us all. We will recommend you to others.
All of the organisation has been excellent and the accommodation likewise. We met some lovely and interesting people on the way. We hope you get some future enquiries as we had to keep explaining your wonderful service that made the walk such a relaxed experience for us. It was lovely to arrive at the Buttery and receive the book. A wonderful momento. We are hoping to do the next section in the spring. We intend to start planning in the next few months and so I will be in touch.
We wish to thank you for all your hard work in making our Thames Path experience absolutely wonderful. Having done the walk backwards, that is from the Barrier to the source, your organisation of our 190 mile walk was superb. Hotels, pubs and B&Bs that we stayed at, were brilliant. All of them were very helpful and very supportive with our adventure. Having our baggage carried by yourself and your colleagues in London was incredible, and receiving texts to state you had collected the bags and dropped them off at our appropriate overnight accommodation, gave us so much reassurance that we were dealing with a professional company. It was aN amazing journey and we thank you for making it so.
The trip arrangements all went very well. I managed to dodge the showers during the walk. I've got a busy summer, but am considering doing the Oxford to Reading leg with your company. So I've only got praise and no criticism for the arrangements.
I would like to recommend 'Walk the Thames' . I think they are relatively new, but they offer a great service. I tried one of your other (Thames Path National Trail) recommendations on your site and found them to be a taxi service basically, charging different costs per section rather than a consistent per day charge and they were also double the cost of Walk the Thames! Richard at Walk the Thames offers a similar service to Sherpavan, including a very cool website which has a good route planner and accommodation recommendations. He has also set up a Facebook page where people walking the Thames path can report any issues on the path and arrange to meet etc. He was flexible, reliable and accommodating as well as reasonable priced.
Thank you for carrying our bag over the last 4 days. You did a great job. The Porters at St Johns College were amused because I don't think they had received a bag in that manner before. But it all worked smoothly and we will have no hesitation in recommending your service.
We've just returned from our first walk (Source to Tadpole Bridge) and cannot praise Richard and the Walk The Thames team enough. The pre-trip communication was excellent, Richard gave us good advice on distances and practicalities as well booking our accommodation, luggage transfers (brilliant!) and providing detailed maps. Throughout the 3 days of walking he kept in touch to advise of flood diversions (due to the unseasonable weather prior to our trip) and gave us other tips to make our walking enjoyable. We will definitely use WTT for future Thames Path walks and would highly recommend them to both novice and experienced walkers. Thank you WTT and especially Richard.
Just a quick note to thank you for your efficient service in collecting and transferring the bags - all worked seamlessly. Arrived in Oxford pretty tired but very happy! We are hoping to walk some/all of the Oxford - Windsor stretch a bit later in the year so u will hearing from us again.
We have explored the Thames on the river for many years and were so looking forward to walking the length of the path in 2021, sadly the effects of a pandemic have put a hold on our adventure. Walk the Thames were excellent in helping us to plan our trip, offering advice and selecting perfect accommodation along the route. They then surpassed themselves with their speed in contacting us regarding cancellation, our refund being processed with hours. We have no doubt that we will book the same journey with them in the near future and look forward to experiencing this first rate service as originally intended.
We walked the Thames Path from Oxford to Windsor in September 2020. We had a lovely holiday, enhanced by "Walk the Thames" who transported our luggage each day to a new hotel. We were notified when the bags were picked up and when they were delivered, leaving us to enjoy the great weather and the lovely scenery lovely. It is an efficient and value for money service. We have still to walk from the source to Oxford; and from Windsor to the end. We will return for these walks and will most certainly use Walk the Thames again
The Thames Path is all about quiet relaxing walking, rather than seeking a gruelling physical challenge, so a reliable baggage service is essential. Walk the Thames were excellent: very efficient and great value – the texts confirming each time the bags were picked up and dropped off were particularly welcome. They helped to make our first post-Lockdown walk very enjoyable
Thanks Richard. It was lovely to have met you also. Thanks for organising this trip.
Questions? Need more details? 
Call (44) 0118 4664007
Email: info@walkthethames.co.uk