Here we list additional resources that can help you plan and enjoy your Thames walk:
Three Men in a Boat by Jerome K Jerome 
A highly entertaining short novel published in 1889 about his exploits on the river between Kingston and Oxford. Although the novel is fictional, it is believed it draws on his experiences on honeymoon!
The Wind in the Willows by Kenneth Grahame
A classic children's book but can be also read by adults. Although the Thames is not directly mentioned, Grahame lived in Cookham and died in Pangbourne. So clearly it's written about the Thames. Illustrations by E H Shepherd are believed to be inspired by Mapledurham House and Hardwick House.
Maps and Guides to assist you on your Thames walk
Ordnance Survey produce the best maps in the world. The most cost effective way of getting the many maps you will need is to register for online access. The cost is £24 per year and you can also download an app.
The best guidebook is probably the one produced by Cicerone. It comes with a map booklet in the back at a scale of 1:25,000. You therefore get all the maps for free. But you won't be able to see beyond the page you are on.
The only downside to the Cicerone guide is that it's printed as if you were walking upstream – which is the opposite to what most people do!
The ordinarily guide costs £15.95 but can be ordered from our online shop for £14.50 including posting and packaging.
Another excellent publication is the Thames Path AZ for walkers. It's a booklet of OS map pages at 1:25,000 scale. The booklet is better than the one included in the Cicerone guide as it covers about 25% more adjacent space. Cost is £8.95 and available from Collins.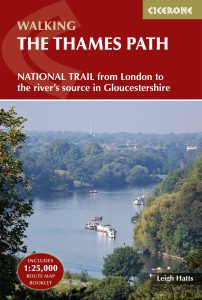 Other Thames Path materials
Rambling Man produces a brilliant series on long distance walks throughout the UK including the Thames Path. His accounts of his walks are quite amusing. 
There are a number of apps that may be of help whilst walking. These include:
British Tree identification from the Woodland Trust. This is a free service but can be difficult to get the answer as it depends on a series of yes/no questions to the tree. Picture This works much better but requires a subscription. 
Ordnance Survey provides online access for a subscription
All of these are available on the App Store or on Google Play