There's no need to carry a heavy pack during the day. Our Thames Path baggage service takes the weight off your shoulders so that you can enjoy the walk so much more and still look fabulous in the evenings.  We can move your bags each day as you walk the Thames Path.
We can move your luggage even if you are not booking accommodation through us. Just email us your itinerary and we will do the rest. Bags can be picked up and dropped off from anywhere close to the Thames.
What you should know
Bags are picked up from 9am and are dropped off before 4pm
We send you text messages once the bags are picked up and again when dropped off. That gives you peace of mind whilst walking.
We charge £15 per bag per move. Bags should be no more than 23kg. For parties with bags of 2 or more, the cost per bag is £10. There is a supplement of £5 per bag on travel days. Special prices available for large groups.
We can also pick up and drop off on travel days. For instance, if you were to arrive in Oxford and plan to walk that day, we will tell you where in Oxford to drop your bag. We will deliver it to your hotel later that day. There is an additional £5 charge per bag for this service.
If you need anything extra dropping off with your bags (batteries, phone charger, spare socks, blister pack), just let us know.  We are here to help!
A deposit of 20% is required on booking with payment in full within 2 weeks of departure. Note that, although we are members of ABTOT,  there is no financial protection for this service.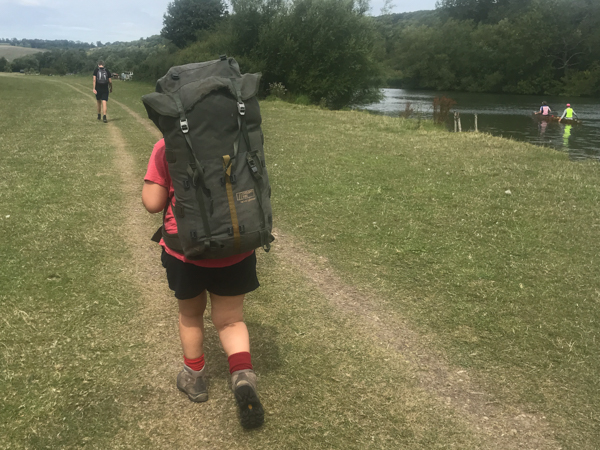 "We walked the Thames Path from Oxford to Windsor in September 2020. We had a lovely holiday, enhanced by "Walk the Thames" who transported our luggage each day to a new hotel. We were notified when the bags were picked up and when they were delivered, leaving us to enjoy the great weather and the lovely scenery lovely. It is an efficient and value for money service. We have still to walk from the source to Oxford; and from Windsor to the end. We will return for these walks and will most certainly use Walk the Thames again." PK. Surrey, September 2020
"The Thames Path is all about quiet relaxing walking, rather than seeking a gruelling physical challenge, so a reliable baggage service is essential.  Walk the Thames were excellent: very efficient and great value –  the texts confirming each time the bags were picked up and dropped off were particularly welcome. They helped to make our first post-Lockdown walk very enjoyable" C.S. Kent, July 2020