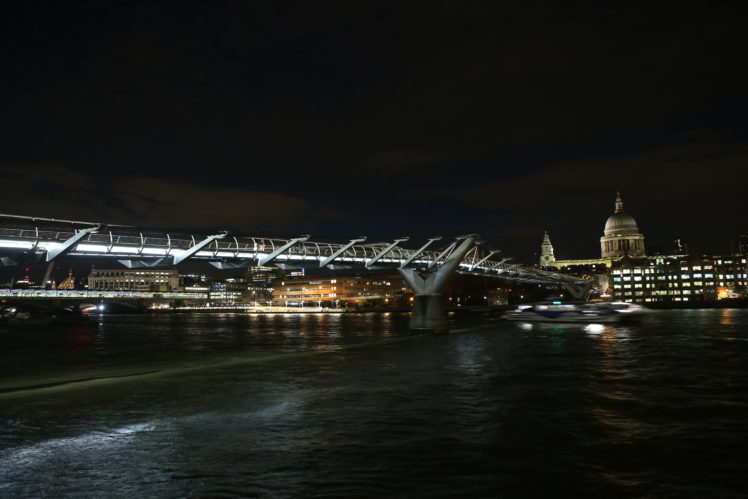 Illuminated River is a public art project designed to transform London at night by lighting up 14 bridges along the Thames. They are offering River Thames Boat Tours to see the art work close up.
Conceived by internationally-acclaimed artist Leo Villareal and British architectural practice Lifschutz Davidson Sandilands, and delivered by the Illuminated River Foundation, the artwork has been sensitively developed, paying attention to heritage, wildlife and the built environment to create something exceptional – a transformation that celebrates the role that the Thames bridges play in the enduring global identity of London, and encourages people to enjoy the river and riverside at night.
Four bridges were completed in 2019 including London Bridge, Cannon Street, Southwark and Millenium.
A further five bridges will be delivered in 2020: Blackfriars, Waterloo, Golden Jubilee, Westminster and Lambeth.
Leo Villareal is working with cutting edge LED technology to 'paint with light', producing sequenced patterns that subtly unfold across the Thames bridge structures. He engages with the site of each bridge, respecting and revealing their unique architectural features and historic identities, while the artwork across the fifteen bridges references the river as a continuous living system.
On February 15 at 6.30pm, you can join the Official Guides to the City of London as they take you on a journey under the rivets of London, Cannon Street, Southwark and Millennium bridges.
This boat tour has been arranged in partnership with Thames Clippers to provide low cost access to the Thames and to the Illuminated River artwork, which is best experienced from the river itself. The boat tours offer the opportunity to sail underneath the bridges and view the iconic architecture of these structures, which have been artistically lit for the first time.
The boat will depart on time and passengers should arrive at Tower Pier at least 15 minutes before departure. The boat tour will last approximately 30 minutes.
£7.50 per adult / £5 concession and children / FREE for children under 4
There are further tours on February 20 and 29. There are also walking tours available. See the Illuminated River website for more details.
The project raises an interesting dilemma for walking the Thames Path. Is the best time to Walk the Thames at night? Why not?