Having completed three weeks of operations since accommodation re-opened, we are pleased that everything has gone reasonably smoothly. Moving bags for our customers provides us the opportunity to meet walkers along the Path and it's always wonderful to hear their experiences. If you need bags moving at short notice, don't be embarassed to contact us. We received a request one day this week at 6.30am for a 2 day transfer starting that same day which we are pleased to say we were able to complete. For more on our bag transfer service, see here.
Route News
The sun has been shining brightly all week and this has helped to dry out some of the waterlogged stretches we experienced last week. There does seem to be one stretch still under water: between Hailstone and North Meadow as you approach Cricklade. Our Facebook group contains suggested diversions. Help us help others by reporting findings there.

We are waiting to hear when the repairs to the Path are scheduled at Waterhay which will require diversions.

The River of Life II project between Clifton Hampden and Dorchester will be starting soon. The Thames Path is not affected but paths leading off it can be. An information board has been put up explaining the project.

The Water Rescue unit was out in force at Mapledurham Lock last weekend. Although they were only on exercises, it's a poignant reminder that the river, inviting though it may seem, can be very dangerous. So do take care. 

If walking through Bushy Park (perhaps on one of our recommended detours), the Royal Parks have recommended that  dog walkers stick to the edges of the park and to avoid areas of dense vegetation. Apparently "wildlife officers are being called out 3-4 times a day in Richmond Park & Bushy Park to help dog walkers being shadowed by deer protecting their young".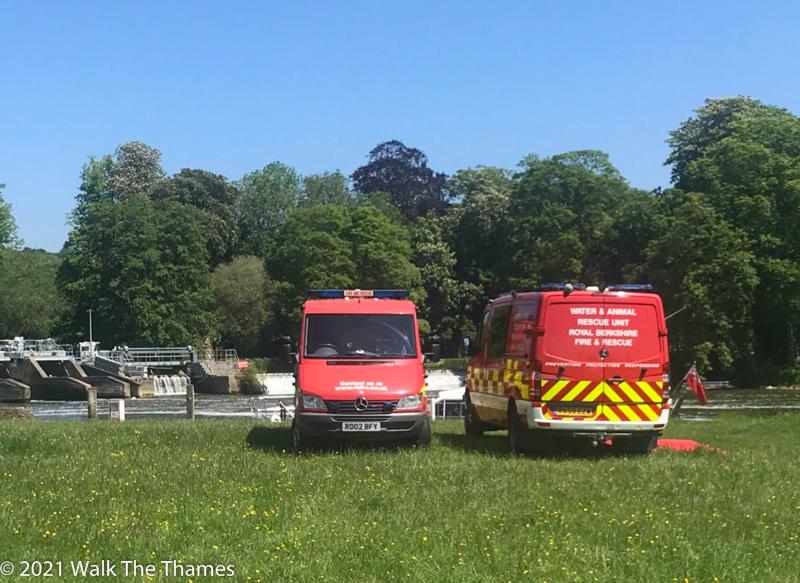 Events
Berkshire Buckinghamshire and Oxfordshire Wildlife Trusts (BBOWT) have launched a 30 Days Wild nature challenge. The challenge is simple: to do something wild every day in June. Don't worry. They give you lots of ideas.

On July 18, Caversham Court Gardens will be hosting Antigone, an ancient Greek play by Sophocles. Whilst this may not be everybody's cup of tea, it's good to see open air theatre returning to these gardens which are just across the river at Caversham Bridge, Reading.

If you've ever wondered about the origins of Old Father Thames, Londonist have published an online article which makes very interesting reading.

A reminder that on June 26 and 27 Pope's Grotto in Twickenham is open. The tour also includes the gardens of Radnor House School. This is a rare opportunity to see the remarkable grotto of one of England's finest poets. Tickets must be purchased in advance from here.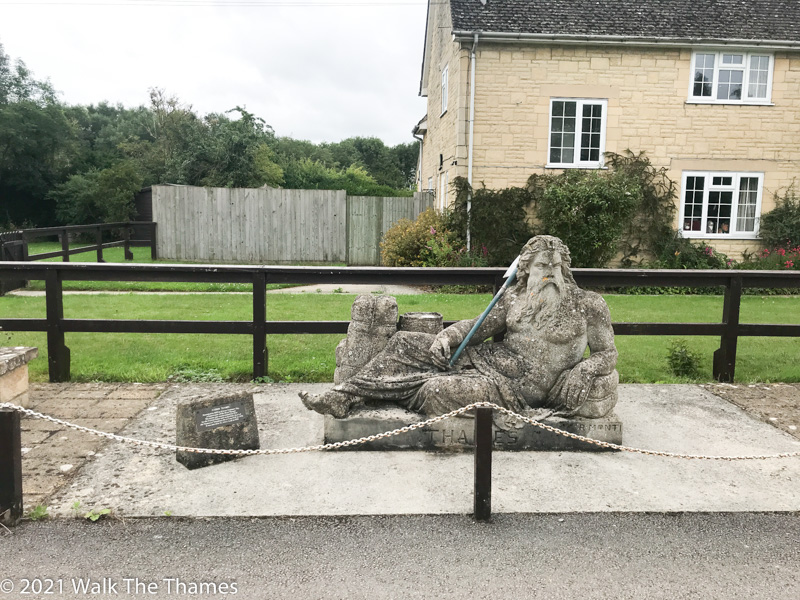 Hospitality
We reported some weeks ago that Premier Inn and Travelodge would not hold luggage making them almost impossible to use with a baggage transfer service. Unfortunately the same issue has arisen at Cosenors House in Abingdon. This has been our only experience of this rather draconian policy. It unfortunately meant re-routing our schedule for the day as bags can only be delivered direct to rooms after they have been cleaned at 2pm; and bags must be collected from guests only when they check out. We hope that this problem will go away once remaining restrictions are lifted on June 21. Fingers crossed for that date.

In other hospitality news, we've had a couple of good restaurant reviews from walkers in our Facebook group:  Tipi Tapa at Cricklade, a recently-opened tapas bar in Cricklade; and La'De Kitchen, a newish restaurant in Pangbourne.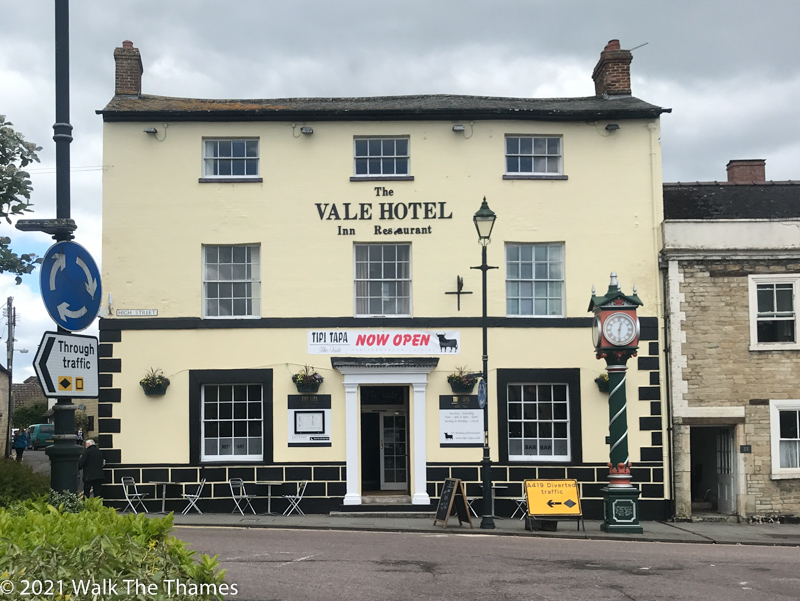 Arts and Architecture
Congratulations to Chelsea who won the Champions League on Wednesday night. Chelsea's stadium, Stamford Bridge, is less than a mile from the Thames Path on the left bank. Stadium and museum tours are available and, like most museums, have now re-opened. Tickets must be pre-booked. 
A short distance upstream, Brentford swapped places with local rivals Fulham in the premier league. Brentford have left their former home of Griffin Park and moved to the Brentford Community Stadium, 300 meters north of Kew Bridge. Well done Brentford but commiserations to Fulham, whose ground is directly adjacent to the Thames Path. For more on football grounds on the Thames, see our blog here.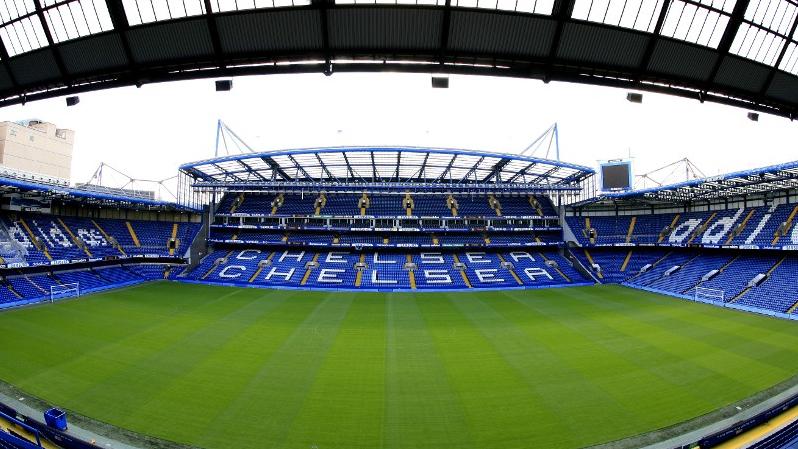 Snippets
This week we've helped walkers from the source as far down as Windsor. Our theme this week are the hotels we've visited along the way. Clockwise from top left: Thames Head Inn; Red Lion, Cricklade; Plough, Kelmscott; Rose Revived, Newbridge.
Clockwise from top left: The Trout at Tadpole Bridge; The George at Dorchester; the Fleur de Lys at Dorchester; the Bull at Streatley.
And finally
It is with great sadness that this week we lost a valuable member of the Walk The Thames team: our beloved Toby. Being a mature rescue dog with an unknown history he was by no means perfect. But his propensity to learn was immense. In his brief time with us he walked much of the Thames Path, lock down rules permitting. He died unexpectedly this week and we miss him very much.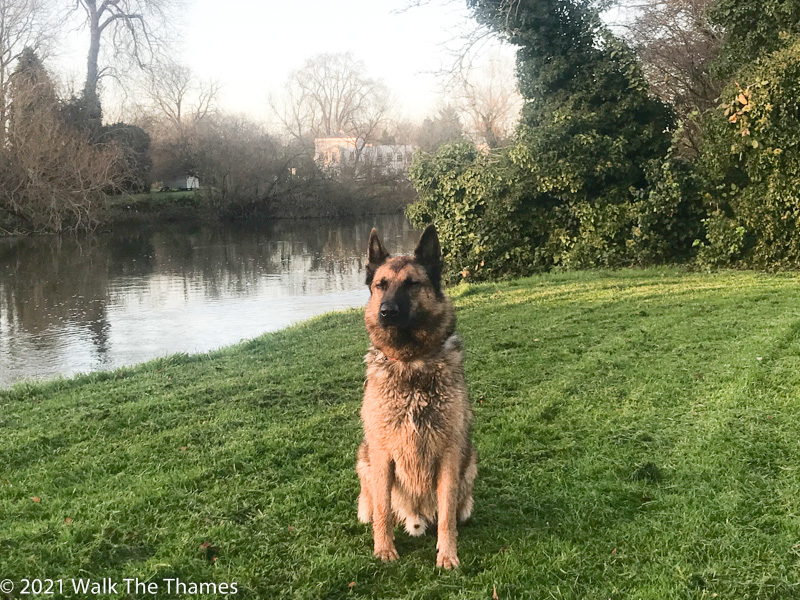 Bye for now and hope to see you on the trail!