Happy New Year! It's three weeks since our last newsletter and what a lot of change we've seen: another national lock-down, floods and a new relationship with the EU. 
The most significant news at the moment is that, as we are now in a national lockdown, all hotels, pubs and  restaurants are effectively closed. As no one can go on a multi-day itinerary, we have no customers to support right now. We are therefore observing the spirit of the national lockdown by "staying in our area" (whatever that means!). So apologies if our newsletters are a little short of content, and if the content is a little biased towards the central part of the Thames Path.
Despite this we are encouraged by the fact that the vaccination program is gathering momentum. It's heartening to know of people who have already received it. As many commentators say, it's now a race between the virus and the vaccine. We just hope that we will be in a position to welcome walkers back in the spring. 
Route News
Heavy rainfalls over New Year contributed to widespread flooding around the Thames. This started in the Upper Thames, upstream of Oxford, and slowly worked its way down as far as London. The river levels have since returned to normal for this time of year. However, the ground is saturated which means that another period of heavy rain will quickly cause problems again.
We report any issues that we are aware of on the status page of our website. Ordinarily we would be able to check conditions for ourselves. However, because of lockdown, we are now mostly relying on information reported to us. If you are aware of any issues, do let us know.
Events
As you might imagine, there's not a lot happening! Fortunately there are a few TV and online programs to savour:
Tony Robinson is back on Channel 5 with another series of the Thames. This airs on Wednesday's at 9pm. The first episode, also available on catch-up, featured Battersea Power Station which is currently being redeveloped; Clivedon House; and the Illuminated Rivers Project.
Immediately preceding Tony, and also on Channel 5, is a new series called London's Greatest Bridges hosted by Rob Bell. The series explores four of London's bridges: the first being London Bridge, site of the first London crossing and now on its fourth iteration (counting the various Roman bridges as one). Next week is Westminster Bridge. 
Finally, a reminder that the Thames Luminaries series of nine lectures starts later this month. It opens with Hogarth's House on January 27 and concludes with Ham House Garden on February 12. The lectures are being co-ordinated by the Pope's Grotto Preservation Trust. A donation of £5 per lecture is suggested. More details here.  
Online Shop Now Open
We opened our online shop shortly before Christmas. Here you can pick up your definitive Thames Path guidebook by Leigh Hatts. Shipping within the UK is free. We still have some calendars left. These feature scenes  from the Thames as well as key festival dates to help you plan your walk.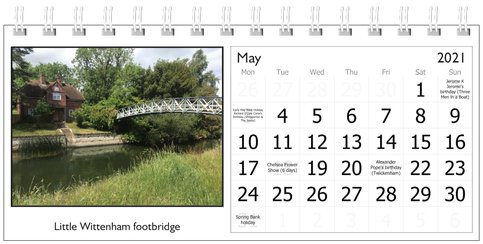 And Finally…
We might be out of Europe but we still want you lovely people from the rest of Europe to come and visit us. The new trade agreement between the UK and the EU means there is no real change. Anyone, regardless of country of origin, taking one of our packages will still benefit from the financial protection of ABTOT in the event of financial failure.