The headlines this week that people coming from amber countries who had received two vaccinations would not have to self-isolate brought us momentary hope that walkers from outside the UK would soon be able to make their way here. Unfortunately, as so often happens, the devil is in the detail: the vaccines have to have been administered in the UK! So, for now, it remains very difficult for our overseas friends to join us on the trail. Sorry; you're going to have to wait a little longer.
Route News
The Path remains mostly dry. However, brambles are starting to take a hold of some of the Path. A stick is very handy.

Optional diversions are now in place past Waterhay in the Cotswold Water Park as work on the Path takes place. The diversions make no appreciable difference to the mileage. Further details available on our Facebook group.

The footbridge in Oxford before you reach Folly Bridge (when walking downstream) is temporarily closed. However you can still cross at gasworks bridge located a few meters upstream.

There is tall vegetation obscuring the path at Datchet between the King Edward VII and Albert bridges.

And some of the signs marking the Battersea Power Station diversions have been vandalised making route finding very difficult there. Missing signs, signs in the wrong direction and dead ends combine to make what has been described as an Alice in Wonderland experience! 

Finally, when leaving Greenwich heading for the Thames Barrier, the Path in front of the Trinity Almshouses is severely overgrown. Whilst not an obstacle it is quite an eyesore. Quite a shame because the gardens there were previously maintained by guerilla gardeners. They appear to have given up. 

Thanks to our Facebook group members for pointing some of these out.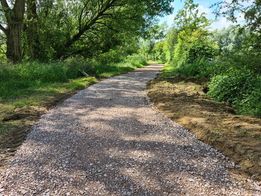 Events
If in Goring on a Saturday evening, check out what's happening at Goring Hall. The Best of Pink Floyd will be showing on July 24th, and a week later there will be a trip through the history of electric blues from BB King to Eric Clapton. 

Also in Goring, a reminder that the Goring and Streatley Regatta will be held on July 17. 

Guided walking tours of Reading Abbey are now being held every Saturday at 11am. Booking details are here.

If in Henley next weekend, July 17-18, look out for some dirty folks. A "Tough Mudder" event is being held at Fawley.  For the uninitiated, Tough Mudder Classic is a 10-mile mud-soaked challenge loaded with 25 of the "world's craziest obstacles".

The Garden at Buckingham Palace is now open. Although tickets are in hot demand, we are advised that last minute tickets do become available. Did we tell you that we managed to get into the Ashmolean Museum in Oxford without booking ahead? 
 
The Brunel Museum is hosting a walking tour of Rotherhithe. It will take place on July 23 at noon. Tickets available here.

For a list of scheduled events and festivals, see our events page.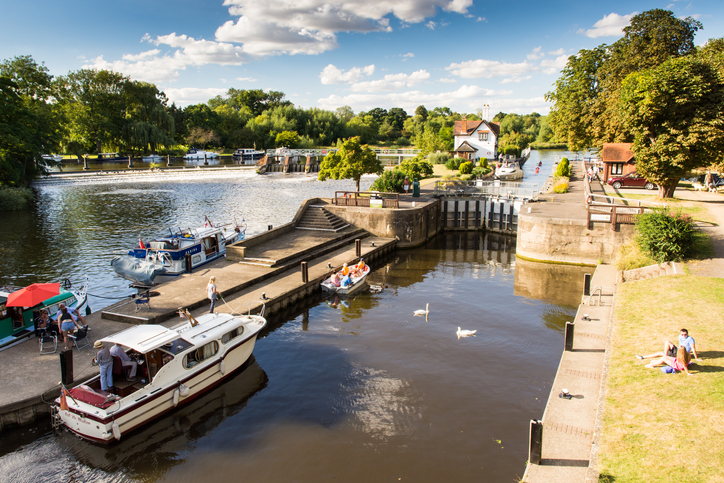 Hospitality
A couple of "shout outs" to hotels that served our package customers in the week: The Red Lion at Cricklade and the Buttery at Oxford. Both hotels received excellent feedback. No surprise for the Red Lion as they came joint first in our most popular Thames Path hotels announced last week. The Buttery sits in Broad Street, right across from Balliol College and two minutes from the Bodleian Library. Whilst not offering food, there are cafes and restaurants on your doorstep.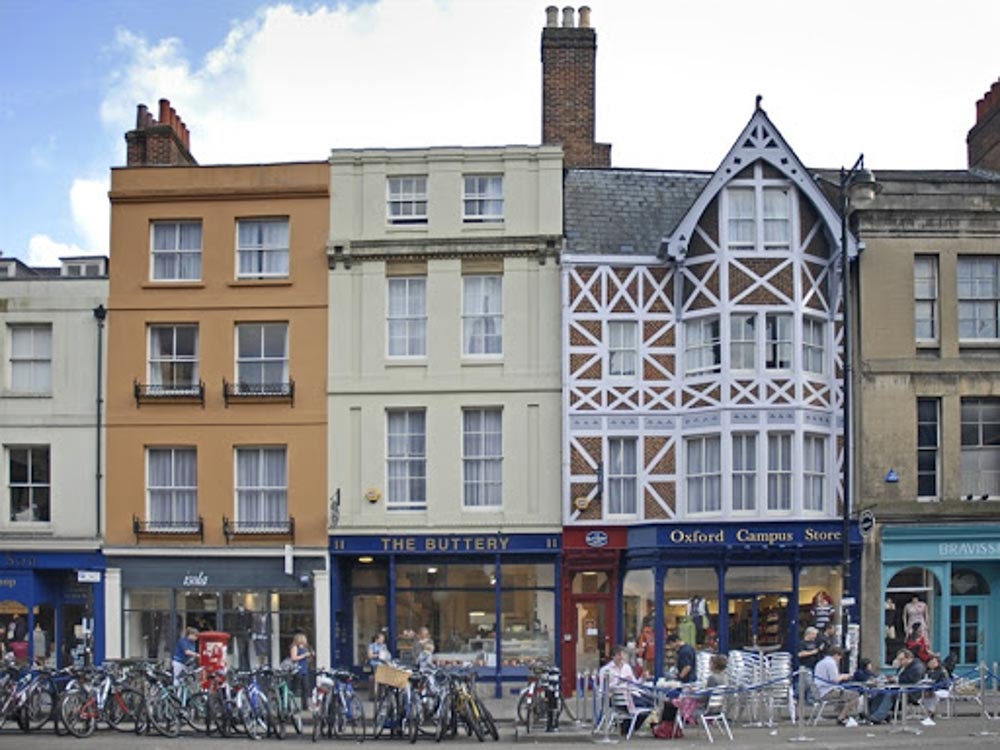 Arts, History and Architecture
Historic England have awarded a £283,200 grant to help repair important medieval remains at Wallingford Castle. One of the most powerful royal castles of the 12th and 13th centuries, there is little left now. It was occupied by supporters of Empress Matilda, daughter of Henry I, who was challenging for the English throne against her brother, Stephen. Stephen frequently lay siege to Wallingford Castle until, at the Treaty of Wallingford in 1153, it was agreed that Stephen would rule as King of England but, on his death, Matilda's son, Henry, would ascend to the throne. The remains can be walked around just above the high street.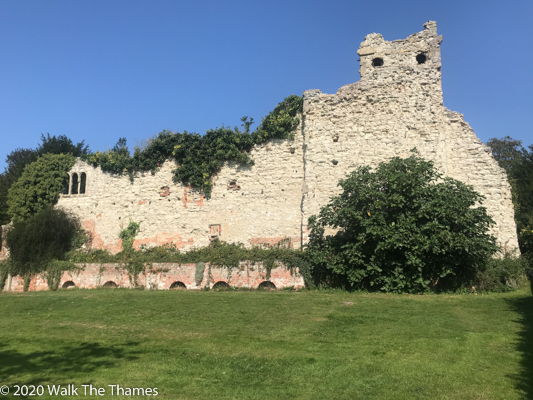 Nature
Not nice news but you should be aware that Southern Water has been fined a record £90 million for the illegal discharge of sewage. In a 5 year period they dumped 21 billion liters of raw sewage into the sea. It's the largest fine ever levied on a water company. Whilst Southern Water has no bearing on the Thames, Thames Water is not without blemish, having had a number of fines placed on it recently. Perhaps this is the dawning of a new era on water company practices. 

It's interesting seeing how the colours of the landscape have changed over the last few weeks. Passing Shiplake this morning we took a photo of this flax field. Compare it to one taken exactly a month ago.
Snippets
We're increasingly convinced that walkers move in packs! This week we had 3 groups that all ended up at the Old Bear in Cricklade. So most of this week has been spent between the source and Abingdon which gave us the opportunity to spend some time revisiting the Path downstream from Osney Bridge in Oxford. Photos (order varies depending on device used): Industrial units near Osney Bridge; rail bridge; Folly Island; Christchurch meadows
And finally….

If you've been on the Thames Path in the last few days you might have seen the Barbers' Cutter crew rowing the Thames from Lechlade (the start of the navigable Thames) through to Richmond whilst raising funds for the Barbers Company General Charities and for the Teddington branch of the RNLI.  The Worshipful Company of Barbers is one of 110 livery companies in the City of London. If you see them, give them a wave. Or better still, some funds. Here's a link to their fundraising page.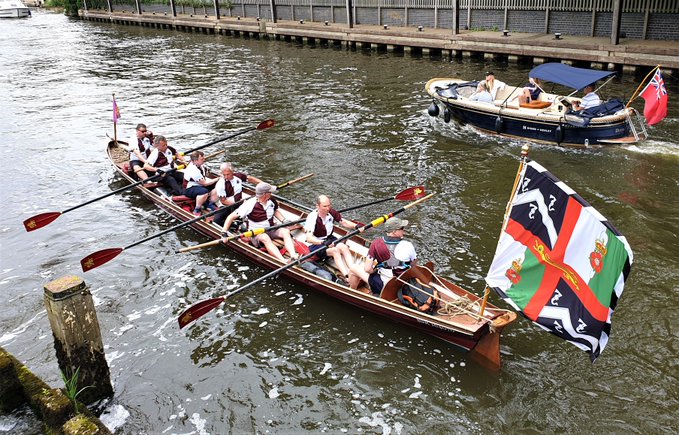 Bye for now and mind how you go!