The second in our series of Thames Path detours, this is a simple one: detouring behind Purley-on-Thames to see Mapledurham House.
The Official Route
From Mapledurham Lock the Thames Path leaves the river, crossing a meadow to pick up Mapledurham Drive which leads into Purley on Thames.
The Path heads over the Great Western Railway, then through a housing estate between Purley Park and the A329, until it rejoins the river at, what used to be, the Roebuck Hotel in Tilehurst. The walk through the housing estate is unavoidable and not the subject of this detour.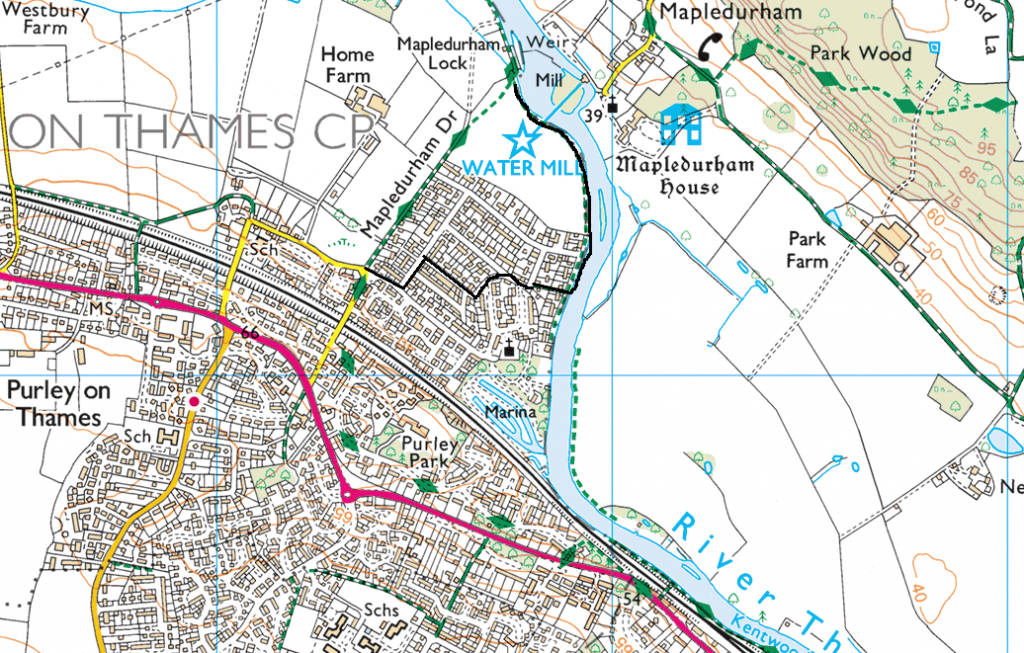 Instead of leaving the river and walking up Mapledurham Drive, you can continue through a delightful meadow, affording wonderful views of Mapledurham House, until you reach a set of riverfront houses. 
Mapledurham House is a grand 16th century property built in the traditional shape of an E for Queen Elizabeth, although this is not obvious from across the river. The house has remained in the same family since it was built. Aside from the historical and architectural interest, the house is famous for two cultural reasons: it was the filming location for The Eagle Has Landed with Michael Caine and Donald Sutherland; and it is believed that the house was the inspiration for E H Shepard's illustrations of Toad Hall in The Wind in the Willows.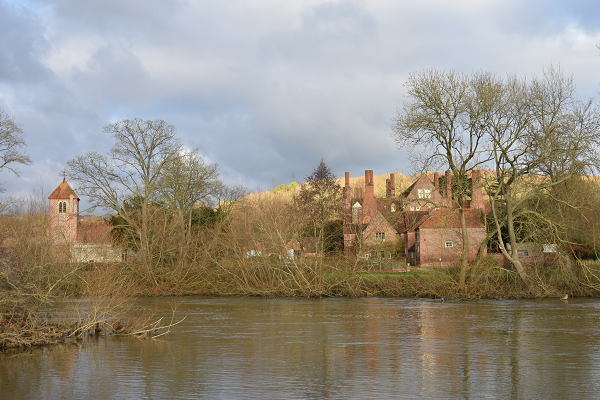 Carry on along the riverfront, past a road coming in from your right, until you reach a snicket on your right. You can carry on along the river for about 100 yards where the footpath ends. The local authorities have been unable to secure a right of way through the marina and surrounding land. There used to be a ferry service a right of way on the other side of the river with a corresponding service back. That has long gone hence the rather large diversion through the housing estate.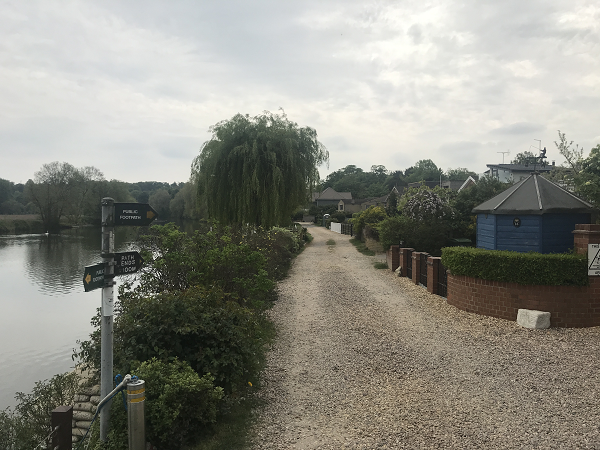 The snicket ends on Brading Way. Carry straight on for a few yards until you reach a track bearing left. This is Park Walk. From there a further track takes you to Colyton Way, which runs parallel to Mapledurham Drive. A quick left then right will take you back to the Thames Path.
You will find the houses on Park Walk and The Short to be rather unusual. When the original Purley Park was sold, some of the land was broken up in 1930 into camping and caravan plots for professional families from London. These weekend retreats became more permanent during the war as families escaped the blitz. Some of the plots housed wooden huts or discarded railway carriages. There are no more railway carriages but some of the original wooden huts can still be seen.
Impact on Distance
The detour adds a further 600 meters (0.4 miles) to the walk.